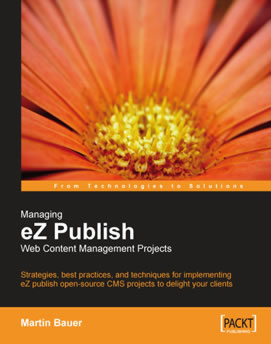 A week ago I received a new book about one of the most complex open-source CMS (Content Management System) on the market right now: eZ Publish.The title of the book is Managing eZ Publish Web Content Management Projects and was published under Packt Publishing.Now, the truth is, I planned just to skin the book.I played a little with eZ some time ago and I really liked it; I think is one of the most performing and flexible enterprise CMS you could find these days. And is Open Source! Even more, you can get it for free, depending the license you take.This was the reason we invited this year at eLiberatica one of the eZ key persons – I'm referring here to Aleksander Farstad, who had one of the most acclaimed by the public presentation at the conference.Back to the book now; as I said, I didn't planed to go too dip inside it but after I read the first chapter, I couldn't let of my hand. It is not a book useful only if you intend to use eZ Publish; is a book that every person involved in customizing a CMS should read. Even more, it contains great information for web project management in general.I'll not go into details about the content of the book, you can find more information on the publisher websitehttp://www.packtpub.com/Managing-eZ-Publish-Web-Open-Source/book#indetailThe book author – Martin Bauer – based his strategies, best practices and techniques presented there on more than ten years of experience in the field of content management systems and it seems he knows this job. Some topics I really liked and can be used if you are developing a CMS customization in general:
Key differences between traditional web development and web content management projects
How to write specifications
Content modeling
Planning your project and approach its pricing
Risk management
Some other topics that are more specialized:
Configuring your eZ publish development environment
Risk management and how to apply it to eZ publish projects
Content population in eZ publish projects
Different types of testing required for eZ publish projects
Maintaining and supporting your eZ publish projects
Final note: this is a "must have" book if you are planning to use, implement or customize eZ Publish. Is not a book about programming (although is a good one for programmers to read for understanding the big picture).More than that, it is a great asset for web project management in general: well written, easy to understand language (even for a non native English speaker), well structured and equilibrate.I'm looking forward for more Packt books now. They seem they know what to publish. I'm curious too see one about Drupal too.